No 80 Squadron
Royal Flying Corps and Royal Air Force 1917-18
No 80 Squadron RFC was formed at Thetford on 1 August 1917 from a nucleus of 36 RS (or TS) and moved to Montrose on 10 August 1917. The Squadron moved south again to Beverley on 17 November 1917 from whence they later deployed to France. The squadron was equipped with Sopwith Camel F1 fighters.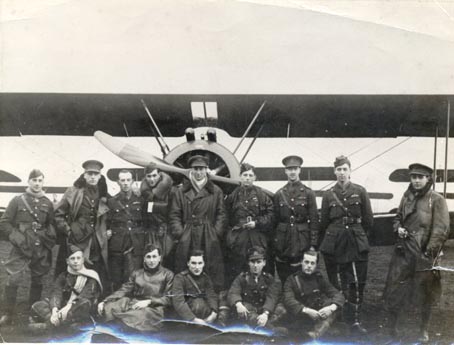 No 80 Squadron RFC pilots before their departure to France
From left standing: Lt. Welch, 2nd Lt. Bennett, Lt. Oldridge, Lt. Brown, Major Bell, Capt Hall, Capt Whistler, 2nd Lt. Gardner, Lt. Preeston. Seated: 2nd Lt. Chadwick, 2nd Lt. Murray, 2nd Lt. Milligan, 2nd Lt. Holt and Lt. Potter.
Photo courtesy of The University of Texas Dallas
Major J B Graham MC, the first CO, was a proponenent of using aircraft to attack artillery positions and had had some difficulty in making his case for this. Accurate bombing had not really been possible but he envisaged a form of dive bombing. 80 Squadron was formed with this role in mind and the Sopwith Camel fighters assigned to the Squadron were modified accordingly. In particular the twin Vickers guns were canted down 20 degrees and there was some strengthening of the wings to accommodate four Cooper bombs.
The first appointments to the Squadron included Capt. St C C Taylor previously with 32 Squadron where he had achieved six victories, Lt. Preeston, Lt. Baker and Lt. Bridgeman.
The squadron practised targeting artillery positions and developed a technique of releasing two 20lb Cooper bombs at 300 feet in a 90 degree bank, then holding this position to come about 180 degrees and, with the target in view again, reversing bank to release the remaining two bombs. After final release they levelled out then dropped to 200 feet to pick up speed and leave the target area. In practice they found it difficult to achieve the required accuracy.
On one occasion Preeston recalled that when returning to the airfield and landing, the ground crew ran forward as usual to manoeuvre the aircraft but stopped suddenly and ran away. Mystified by this he got out of his machine and found to his horror one of his Cooper bombs primed and stuck in the rigging between the Camel's wheels! This was a consequence of not getting the bombs cleanly away in a 90 degree nose down bank which minimised the effect of propellor slipstream.
During their training period the Squadron acquired incendiary ammunition for their Vickers guns to assess its effectiveness against artillery targets. The idea of using incendiaries was quickly dropped after experiencing problems with ammunition overheating, unexpected detonations, and modifications that led to other difficulties.
In late 1917 the Squadron was visited by Major V D Bell who had been asked to consider their proposed tactics drawing on his front line experience. In Bell's view the focus on attacking ground targets was flawed if it required other Squadrons to fly escort for their mission. Bell and Graham discussed possible tactics and came up with the concept of one flight (C Flight) specialising in ground attack with the other flights (A & B) providing mission escort. Major Bell subsequently took over as CO of 80 Squadron in January 1918 and Captains Whistler (ex 3 Sqn) and Hall joined as Flight Commanders. Click here for a list of Squadron personnel.
80 Squadron took off from Beverley on 25 January 1918 for France via Hitchin and thence to St Omer and from there via Serny to Boisdinghem where they arrived on 29 January. For the first 10 days the squadron was grounded by cold weather and fog.